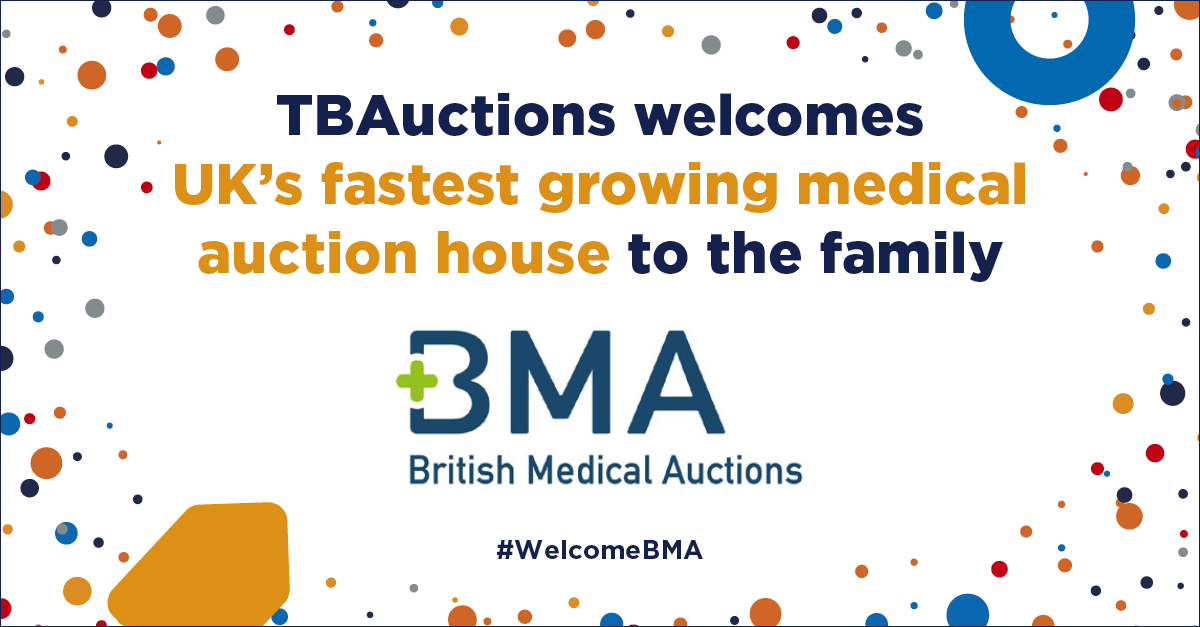 UK's fastest growing online medical auction house British Medical Auctions joins forces with European auction house, TBAuctions
On 1st January 2022, the UK's fastest growing online medical auction company, British Medical Auctions (BMA), confirmed its acquisition by Dutch auction company TBAuctions, part of Troostwijk Auctions. BMA will continue to operate with its own brand and online presence, now in an advanced position to build on the 110 trade auctions it facilitated in 2021 that attracted buyers from 65 countries globally.
The deal comes as the value proposition of the online auction market across Europe continues to emerge, partly in response to the greater need for remote solutions in times of social distancing, but also due to the rising number of people in need of medical support. The European Online Auction Market is expected to reach $224 billion by the end of 2025, with a CAGR of 8.85 per cent during 2019-2025.
With more than 20 years of experience in auctions and selling medical equipment, BMA is a leading player in the UK healthcare market and has a significant role in supplying essential medical products both in the UK and further afield. BMA has branches in the United Kingdom and France and brings with it more than 10,000 registered online buyers from all over the world.
TBAuctions was established upon the merger of Dutch online auction houses Troostwijk Auctions and BVA Auctions, and was recently acquired by Castik Capital. Jointly with the new shareholder, TBAuctions aims at realising further consolidation in Europe's auction market through the significant investments the company has made to develop a state-of-the-art IT platform called ATLAS, with which the company can seamlessly scale up and integrate new businesses, like it has with BMA.
Commenting on the acquisition, Markus Grad, CEO and Founder at BMA said, "TBA's strong presence and network throughout the European continent offers tremendous opportunities for the growth targets of BMA. Working alongside TBAuctions' team and Castik, we are confident that BMA will go from being a major player in the UK, to a major player across Europe and with that, become a critical part of the medical supply chain across the continent."
The growth ambition of TBAuctions, which is currently active in eight European countries, is underlined by the takeover of BMA. Herberth Samsom, CEO of TBAuctions commented, "BMA is one of the UK's leading medical auction houses and so we are incredibly pleased to integrate them within our wider network. One of the major reasons for the purchase of BMA was its outstanding position in the healthcare market, a market that has traditionally been characterised by strong barriers to entry.
"We want to deploy the specific knowledge of BMA throughout the European continent as we seek to fill a gap in a critically important market both for social mobility, but also profit. With increased health risks, demand for used medical equipment across the world is rising."
View all News